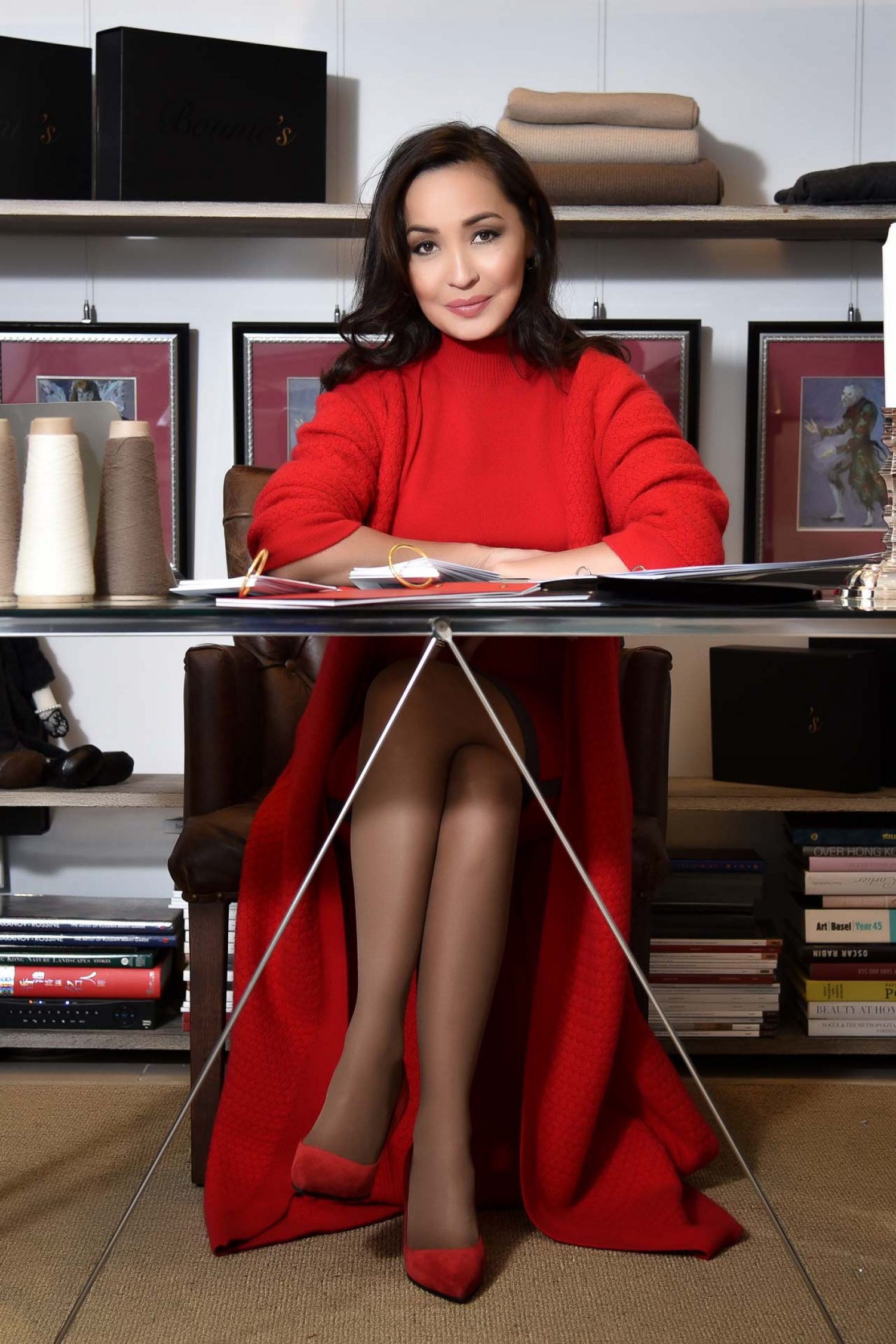 'Bonnie' to her many friends – was born in Almaty, Kazakhstan. Armed with a Law Degree and a PhD in Economics, she worked for the Ministry of Trade & Industry, becoming Vice-President of Kazinvest (Kazakhstan Investment Promotion Centre), before boldly embarking on an abrupt career-change.
In 2003 Banu decided to devote herself to her lifelong passion: Art and Design. She founded Kazakhstan's first art advisory, Banu Babayeva Russian & European Fine Art, and established Bureau 1985 – Kazakhstan's first boutique for avant-garde fashion.
In 2010 she expanded her international outreach by moving to Hong Kong where, in 2014, she launched her own cashmere brand: Bonnie's. The garments she designs, made from the finest cashmere sourced from Inner Mongolia, embody Banu's passion for eco-friendly beauty, exquisite craftsmanship and ground-breaking creativity.
'Ever since I was a child, I've always liked to dress differently from those around me' she explains. 'As I grew up, I was always trying to change the clothes I bought – adding inventive details and my personal touch to ensure a unique look. I love fashion, style, quality and comfort. That's what Bonnie's is all about!'

While the cashmere quality across the world varies and differs drastically, at Bonnie's we are fundamentally committed to source only the finest cashmere. The fibers of the cashmere we use is 14.5 microns thin and 36-38 mm in length – a very rare commodity, classified by the industry experts as the best attainable Grade AA cashmere, defined by its exquisiteness and softness.
From sourcing to producing, and, ultimately, wearing, Bonnie's cashmere, standing at the pinnacle of quality and ambition, is the natural choice for the present, the future, and, most importantly, You.
Bonnie's eco-cashmere is 100% natural. As such, eco-cashmere enjoys its natural privilege of being completely free of undesired elements such as solvent-based inks, iron, tin, potassium and volatile organic compounds (VOCs). It remains undyed and unbleached, thereby preserving the value of its authentic origin, as well as representing the aesthetic ideal so desired by modernity.


In turn, the eco-friendly cashmere is a child of traditional-authentic craft and modern technologies. The production of a cashmere yarn requires a highly sophisticated, sequential approach that guarantees the purity of the product and the comfort of wearing it. The cashmere is dyed on the state-of-the-art Italian machinery and is then pre-treated using healthy biological compounds of Swiss and German origin, which ensures the quality of the garments that could even be worn on bare skin.
In a world dominated by climate change, globalisation and frequent travel, one must look deeper to address the sensitivities the planet faces. Born from a devotion to bridge modern-day desires with sustainable philosophies, Bonnie's symbolizes life's greatest pleasures.